Is Andy James Australia's best rail rider?
Appearing seemingly out of nowhere last year with one of the best ever rail parts by an Australian snowboarder, Andy James is going about his snowboarding his own way. From an interesting introduction to snowboarding to refining his skills in the offseason on his mountain board there is not a lot the boy from Victoria can't do. With new sponsors in tow, an invitation to the world famous Superpark and another much awaited video part to be released, Andy could be set to take the mantle as the country's best rail rider. We had a chat to Andy after returning home to his base in Calgary after a busy few days at Superpark.
You're kind of fresh on the scene. Tell us about yourself and how you got into snowboarding?
Snowboarding was the first thing I did. I went up to Mt Buller when I was 14 with my mum and my brother and some family friends. Honestly I hated it, first day snowboarding I hated it. Everyone was making it look so easy and I was cracking the shits. I almost went skiing the following day but I stuck with it and made it down Bourke Street without falling over and I was psyched. I'd go up a few days a season from then on during high school. I stated skating and mountain boarding, because I couldn't snowboard all the time until I did my first season in France and then I kind of focused in on snowboarding and the rest is history really.
I grew up in southeast Melbourne. I started skating because all my friends skated and all the sick snowboarders skated right, so I just tried skating. I didn't start until I finished year 12, but then skating turned into its own thing. I skated as I thought it would be a good alternative to snowboarding and then it just became its own thing. I didn't think about snowboarding for two years, just skating. I went to Uni and just skated all the time and didn't go to any classes. I did general business, only did it for 6 months and gave it away. Then went back for a full year, doing psychology and sociology, which was sick but I just wanted to board, so I ditched that and started doing seasons.
The other thing I did was gymnastics for 3 or 4 years. It really helped for air awareness. I spent the whole time on trampolines, I always thought gymnastics was girly, but I just wanted to do backflips and then get the hell out of there. I ended up getting back pain and nerve damage so I had to give it away.
Tell us a bit about mountain boarding?
Yeah mountain boarding, it's sweet. When we were in year nine my friend brought one to school. We were mucking around on it during recess and I thought it was sick. It's basically snowboarding without snow, right? It's what I did instead of snowboarding, I had a few jumps in my backyard so after school would just muck around on them and pretend I was snowboarding.
And you're a world record holder, is that correct?
Oh shit, here we go (Laughing). Ah yeah apparently I landed the first double backflip. Heaps of people had tried it, but going from YouTube and the Internet we never saw anyone land it. We were at my friend's house and he had a sweet setup with a foam pit and an identical dirt jump next to it. I didn't normally do many backflips, like I could do them but never too much on the mountain board. But I gave it a go and got it.
It's a pretty small community, most people think of mountain boarding as mostly weirdos into it, but there are lots of really good people at the same time. Some of my best friends are mountain boarders. Without it I wouldn't be the snowboarder that I am now, 100%. I learnt the foundations, the basics and applied it to snowboarding. Those things are hard to do tricks on, they are twice as heavy as a snowboard and you can't just stop and control your speed like you can on a snowboard.
Do people still recognise you from the Bing commercial?
Haha not really, I had some kids at the skate park one time were like "oh hey you're that guy from the commercial." I was like "Oh yeah hey", but that was it. That was pretty funny though.
You filmed a legit full part with an international crew last year, tell us about that?
Well 2014 was my first season in Australia and I met Tommi (Ollikainen) hiking the tubes at Perisher. Neither of us had passes so we just chilled and filmed street around the lodges as there was heaps of snow. That's what we did, I pretty much just boarded with him the entire season. He ended up getting a pass through media but I just carried on hiking and snaking the lifts or whatever. It was sketchy and looking back it's hard to believe I did the entire season without a pass but I pulled it off. We just hung out and he said I should go to Finland, so I went there as long as there was snow in the streets I was over there. Filmed that Honyos part and yeah, that's how that happened.
HONYOS from SNACKBREAK on Vimeo.
Were you pretty happy with that part last year, it was one of the better street parts to come out of Australia?
Yeah of course I was happy I had a part, but you always feel it can be better. There were a few things I got robbed on or didn't get to get, so in my own eyes I wish it were a little bit better. I'm happier with what I got this year, although I'm never 100% happy, you're always trying to get it better. I mean, what's the point of filming a perfect part, if you film a perfect part you never need to film another one again.
True, how has this season been? You're dropping another part this season?
Yeah I was all over the place this year. Started out in Japan but that mission got aborted as the filmer didn't show up. It was just me and Rocco over there and this guy didn't show up to film. So I bailed over to Calgary and got really lucky with snow, caught the window, as it's hard there as the snow comes and goes. From mid December to mid January I filmed here with some crew, it was super productive and everyone's shit was on lock. Then I went back to Japan, I wasn't ready to give up on that place, as it was the first time I'd ever been there and their culture is so sick. I filmed with the Odd Folks guys for nine or ten days. That was awesome, as I've never really ridden with the Aussie boys outside of Australia before. Japan was sick but the whole police situation is pretty gnarly. First day, first spot there was about six cops that rolled up, no one can speak Japanese; they take all your details and sound really serious. I know some other crews were getting hassled, the Deju Vu crew, some of them ended up in jail I think, so it's a bit hectic. But we got some shots and it was sick.
And you just went to Superpark, how did you hustle that?
Well I didn't really hustle, I'm just really lucky to have been offered that by Sean Black, the global TM for Arbor. Louis Macindoe from Arbor Australia talked to Sean for me and was like boom, yeah come down to Superpark. I was gobsmacked. Like I've always wanted to go and I've never even been to the States before so it was a whole new kettle of fish, being invited to Superpark doesn't happen every day so I had to make that happen. I had a blast and wish I could have been down there for longer. It was great to meet everyone, hang out and party.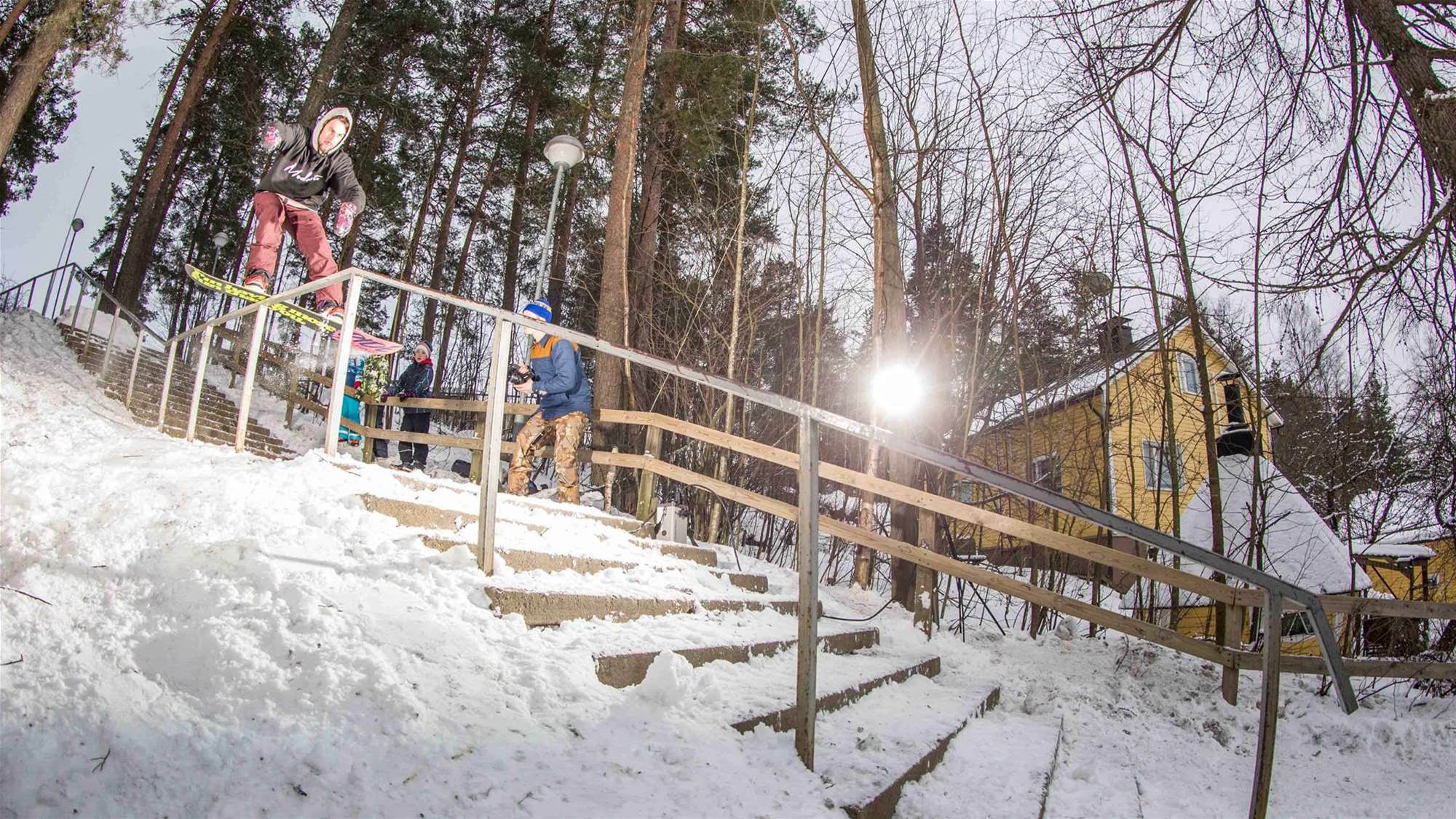 Who are you riding for now?
I was getting Stepchild throughout the year, and only got my Arbor setups at Superpark which was a bummer as I was spending my time there getting used to them. But they are sick. So yeah on the Arbor program now.
What are the plans for the movie this year, another premier?
Yeah for sure, I know Marcus has been working hard, so I'll have shots in the Odd Folks. I'll have two parts, one with Odd Folks and the other Snackbreak. And then a bunch of cameos in friends' projects, but hopefully once everything drops I can release a big part with everything in it, so will be good to consolidate everything.
Any final shout outs?
Obviously Mum and Dad and all my family, they are my number one sponsors, they have my back for sure. My friends from back home, Dylan Warren and the mountain board homies. Tommi and the Snackbreak homies. Anyone I've come into contact with throughout the season. Of course all the sponsors, Arbor especially Louis, 3CS, Modest, Rhythm. Powder Pak Parks too, can't forget them. Riding that stuff helped me out heaps.
ANZ Snowboarding